Delivery
you know its quality when you see the wagner truck
Track Your Delivery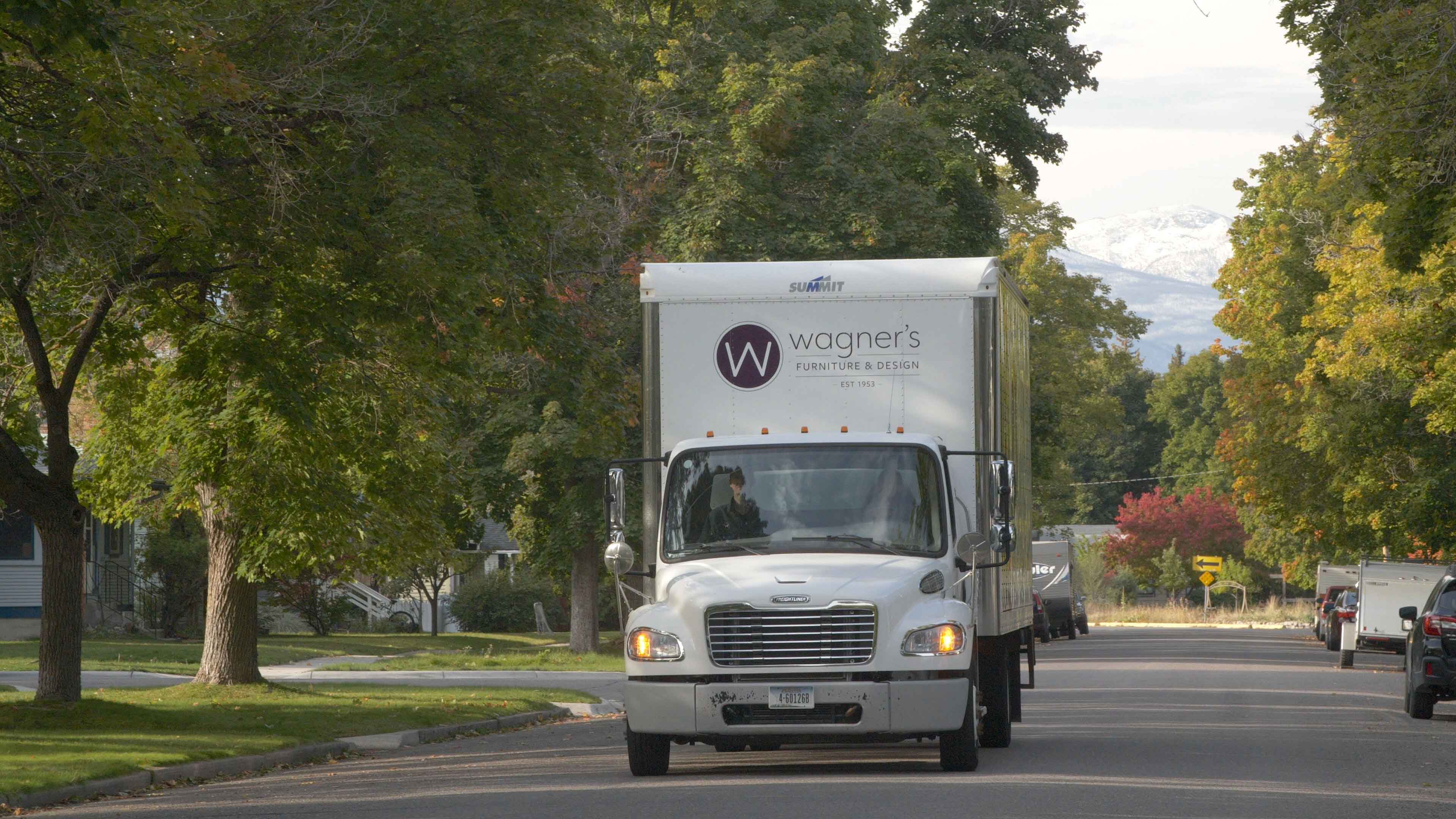 White Glove Delivery
Wagner's has been doing white glove deliveries for over 5 decades. Wagner's takes care of everything from moving furniture to setting up your new furniture. Every detail is taken care of and set for you to enjoy your new furniture when the Wagner's delivery team is finished.
Checklist
Schedule your delivery
Notification updates on delivery
Your items are inspected and prepared before delivery
Receive updates to any schedule changes
Upon arrival delivery team will inspect your home and room
Delivery team will place everything the way you want it positioned
Wagner's assembles everything for you
A final inspection is performed before leaving
White Glove Delivery
Restrain pets
Clear pathways
Remove unwanted furniture
An adult of at least age 18 must be home
Check doorway widths and remove doors before delivery team arrives
Call us in advance of any concerns
Wagner's Customer Pick Up Procedures
If delivery isn't the route you want to go, feel free to pick up your purchase! The hours for pick up are Monday to Friday: 9:30 am to 5pm, Saturday: 9:30 am to 4:30pm, and NO PICKUPS ON SUNDAY. Please do the following if you plan to pick up your purchase:
Please call the store at least 24 HOURS in advance to schedule pickup. Monday pickups should be scheduled by 12 NOON on the preceding Saturday.
Please call 406-728-3214 to schedule a pick-up time. Please indicate the type of vehicle you will be using for pick up and if it will be open or closed transport. Also include any special considerations or instructions.
All customer pickups should be paid in full at or before time of pick up.
For customer pick-ups, please park in our lot located off Stephens Ave (back of store). Come in and notify one of our team members that you are here for a scheduled pick up.
Customer is responsible for supplying anything needed to properly secure the furniture during transit including tie downs, blankets or other packing material.
Our delivery staff is available to help tie down and secure the merchandise. Customer assumes all responsibility for items once the items are loaded.
Wagner's Service Procedures and Fees
Wagner's maintains professional and certified service personnel to inspect and repair most all issues with the home furnishings we provide. Here are the guidelines on professional inspection, servicing and re-delivery of any items we service:
If the item(s) was purchased and delivered from Wagner's and is less than 1 year old, there is no charge for inspection, labor to service the item or re-delivery.
If the item(s) was purchased and delivered from Wagner's and is greater than 1 year old, there may be charges associated with inspection, labor, parts and pick-up and re-delivery. These charges will be determined on a case by case basis and will be communicated to our clients before any decisions need to be made.
If the item(s) was not purchased from Wagner's, there will be reasonable fees for inspection, parts ordered, labor and re-delivery of items.
Wagner's Haul Away Policies and Fees
We have compiled a list of organizations that may be able to use the items you are thinking of discarding. The Donation Warehouse, for example, helps raise funds for the Parenting Place to prevent Child Abuse. You can even contact the Donation Warehouse to come to your home to pick up your items for donation. If you no longer have a need for your items but they are still usable, consider donating them to help those less fortunate.
In the event you need Wagner's to haul away an item with a new purchase, here are the guidelines:
Item will be inspected by the delivery crew and may be deemed in condition that prevents us from putting it on our truck.
Haul Away fees are $50 for a chair, $100 for Sofa or Loveseat. All other pieces determined on case by case basis.